The artist Sara Steele was clearing out old copies of her desk calendars, in celebration of her 35th calendar, and decided to run a little contest, which Jeanne thought looked like fun. Jeanne and I are often looking for excuses to make art together, and I've admired Sara Steele's work since my sister Michelle started using her desk calendars in the 1980s, so this was a lovely bit of serendipity.
I'm posting my collage here so I can pin it on Pinterest. (I'm not a very practiced Pinterest user, and didn't figure out a way to upload something directly until I had already written this post.)
It's called "Purple Steele Landscape." I made it on Saturday (November 22, 2014) from pieces of Sara Steele's 2005 Desk Calendar (crediting her here for use of her copyrighted work).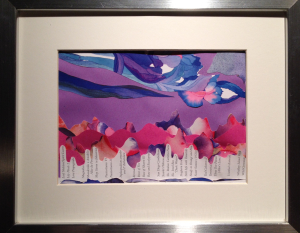 The shape of the landscape–and the idea of doing a layered landscape at all–came from the undulating line of the text of the index of the calendar. This might become a diptych, as the index was in two columns. I'm also wishing that I had textured up the purple background-paper more before I started gluing–crumpled it, or painted it. Maybe it'll grown on me. We'll see.