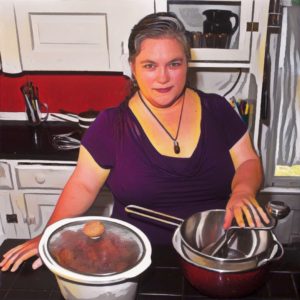 I give you The Adventures of Sassi Saucier: Recipes, cautionary tales, obsessions with duck fat. For shorter-form readers, enjoy the intermittent grocery grumbling at http://irritated-epicure.tumblr.com.
Sassi Saucier is a culinary alter ego I originally invented as a comic burlesque character. She quickly became the narrator of anything I do in the kitchen that has real technical or creative merit, as opposed to the times when I stir some protein powder into a glass of tap water at 9:30pm and call it dinner.
Sorry about the extra click, above. I haven't figured out whether this WordPress theme supports category pages with a bit of a narrative at the top. Some of these posts are items that I originally wrote as notes on Facebook.
Many people enjoy these posts, but not so many that I'm at all serious about writing a cookbook. It wouldn't be a usable cookbook, anyway. It would be a memoir about cooking. But if I ever get around to it, it will still be called The Adventures of Sassi Saucier.
I'm also using this page to keep links to cooking blogs that I admire and/or visit frequently, in no particular order.
Induget's Cooking: You like Indian food? You go here.
Smitten Kitchen: I have made Smitten Kitchen's Pear Bread many times (with Jeanne, thanks to gifts of pears from Deirdre). It fills the void created by my immovable aversion to banana bread (ick).
Oh She Glows: Sometimes I bake treats for vegans. And this is now my favorite frosting that does not involve cream cheese.
Inspiralized: I do not find this blog's author simpatico, but I find her list of things to do with my spiral vegetable cutter quite useful.
Michael Ruhlman: The man knows his duck confit.
Joy the Baker: Her post on BLTs is so close to what I would write that there's no point in me writing one now. We might have to have a cage-match over lettuce choice, though. She's Team Iceberg; I'm Team Bibb, with Romaine a close second. And while I support her "perfect, or perfectly horrible" characterization of appropriate BLT bread, my "perfectly horrible" breads of choice are Arnold Brick Oven White, or Pepperidge Farm White Sandwich Bread. Joy supports Wonder Bread, which in my world is only appropriate as bait for really stupid fish.)