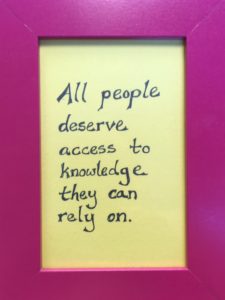 I originally set up this blog as a professional tool. I thought of it as a "for further reading" site that I could link to from my resume or my LinkedIn profile. But then I started using it for more than just my professional side. (Read more about that on my "About" page, if you like.) This page preserves the professional pieces.
At a project retreat in 2015, we were challenged to write an "inspiration statement"—a personal connection to our project's mission. I wrote "All people deserve access to knowledge they can rely on."  I have built a career around these convictions:
Words have meanings, and should be used with precision and care.
Most humans can understand anything, as long as it is explained clearly.
How we create, gather, preserve, and exchange knowledge is at the core of our humanity. It is the basis of culture. It's what makes us more than our genes.
Since 2011, I've been with the Johns Hopkins Center for Communication Programs, where I'm currently the Global Repository Director of the Knowledge for Health Project. I have written occasionally for the K4Health Blog (where my greatest hit is "Data Visualization Approaches for Knowledge Management and Beyond") and The Exchange: Knowledge Management Matters on Medium.com.
Extracurricular but still professionally relevant posts are below.