For some time I've been posting cooking notes on Facebook (including a slightly earlier draft of this one). Henceforth, I'll be posting them here, under the "Sassi Saucier" category. 
TL;DR: Duck confit with jicama fries and a rhubarb jus; Szechuan peppercorn duck breast with rhubarb-jicama slaw. Skip to the recipes.
If there were an Epicurean Guild I were trying to get into, this might be my masterwork submission. I do not say that lightly. It's spectacular. I'm not even going to "IMHO" that. (That Sassi, she is not humble.) From my researches during the 2014 Rhubarb Season, I present: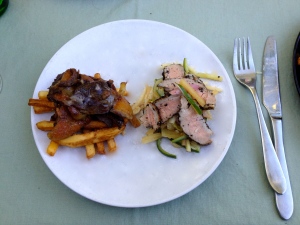 Duck, Rhubarb, Jicama: Two Ways.
Servings: 4-12.
The confit-and-fries could serve 4 on its own if you made twice as many fries as I made for Two Ways, and had a salad.
The slaw is enough for 4 duck breast fillets. I only made two fillets during the Two Ways prep. (So, if you were only making one Way, you should use 4 duck breast fillets for 4 entree servings.)
The pairing could probably serve 8-12 as an appetizer or small plate.