TL;DR: The Cosmic Crisp is a very good apple, with more complexity than Honeycrisp and spooky keeping qualities. You should try a couple if you see them in a store.
Plenty of other folks (including The Allusionist, Helen Zaltzman) have written and talked about the unprecedented hype surrounding the December 2019 release of this new apple. I bought two Cosmic Crisps at my first sighting, which was at the Trader Joe's on Colesville Road in Silver Spring, Maryland, on Saturday, January 12, 2020.
Heft: Both of my samples were huge (8/10ths of a pound)—larger than I typically want to eat in one sitting, but that doesn't matter (see below re. its qualities after cutting). Feels dense and heavy in the hand. [EDIT: Beginning in the winter of 2022, I began seeing smaller examples, including bags of snack-size apples (approx. four to five ounces each vs. the 13-oz. monsters that hit the market first).]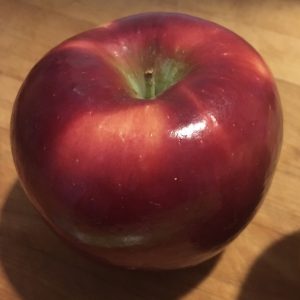 Visual impressions: This apple is gorgeous. You need an apple for a new version of Snow White? Here's your star. Broad-shouldered, narrowing at the base. Deep ruby-wine color, like a Tempranillo or a Cabernet Sauvignon, freckled with small pale lenticels. This combination reminds some people of stars in the night sky (which according to this episode of The Allusionist is where the name came from.) This striking background is further enhanced by elegant flamelike shademarks—the dapples in an apple's color that happen because a piece of fruit has a leaf or twig that keeps a portion out of the sun. My two samples also had a surprise bit of bright green in the cavity (the dimple around the stem).
Continue reading

Cosmic Crisp: First Impression