TL;DR: Spiral vegetable cutter. Daikon noodles. My life is different now. Skip to the recipe.
Me, on Facebook a few days ago: "I need to issue fair warning: I got one of these for Christmas. I'll probably be posting a series of exclamations along the lines of 'Hells yeah, spiralized celeriac!' This video does not accurately reflect my user experience, because at no point does this lady say 'Wheeeeeee!'"
(Recommend you skip ahead to 2:41, mid-zucchini. I tried to shortcode that for you, but it didn't work.)
I need to give a hat-tip to Ali Maffucci of www.inspiralized.com. I can't say I'm going to follow her recipes very precisely (or at all). We are Not Simpatico. She is "your typical girl in her twenties looking to fit into her skinny jeans", whereas I am your atypical/eccentric/outlier-ish woman in her forties striving to improve her overall wellness. But that skinny-jeans girl has some great ideas. Even just clicking on her site's navigation to see what vegetables she has worked with has been surprisingly useful and inspiring. (Spiralized broccoli stems: Soon.)
Backstory: I have a noodle problem. My metabolism is fantastically effective at storing energy from carbohydrates. I shouldn't really eat them. I've been on doctor's orders for a while to consume fewer than 100g of carbohydrate per day. Nice round number, that. 100g. Memorable.
I like eating this way for the most part, and it feels good to me. Sadly, I have a weakness for noodles. Spaghetti with oil-cured olives and slivers of prosciutto and some curly endive. My older sister's signature spicy mac & cheese, with her homemade roasted homegrown tomatillo salsa. But my real Achilles heel in low-carb terms is Asian noodles. Thai, Vietnamese, Japanese, Chinese, Korean, wheat, rice, buckwheat, bean thread, sweet potato, lo mein, pad see ew, ramen, udon, chow fun, pad thai, bún, japchae, whatever. All The Noodles.
Want to know how many grams of carbohydrate are in your average takeout container of lo mein? 100. Also, usually 800 to 1000 calories, and more sodium than a human should eat in a day or two.
I was skeptical when I first heard about zucchini "noodles". I had an early, scarring experience with spaghetti squash that made me reject ersatz foods in general for a very long time. Spaghetti squash is not "just like spaghetti!" Mashed cauliflower is not mashed potatoes. Don't even pretend. You are not fooling me. But I discovered not too long ago that zucchini, cut into noodly-julienne, is a lovely thing on its own merits. I got a julienne peeler, which is fine when all you want to do is sliver up one small zucchini. Sadly, it makes a celery root into a daunting thing.
Then came the spiralizer. I got one for Christmas. It makes zucchini super-easy, but daikon blends more deliciously into the illusion of noodle soup, and besides, daikon is fundamentally hilarious. Consider the Radish Spirit from "Spirited Away." (I had a linked image here but it broke, and I am afraid of lawyer-robots. Here's a Google search on "Radish Spirit" to help you visualize the fundamental hilarity.) My Whole Foods only sells daikon in bundles of three, which seemed like a lot. They are not small. On the other hand, I have discovered that I can eat a whole radish at a sitting very easily once it's turned into noodles.
Here are my sketchy notes from Take 1:
"6 c water, 1 tsp salt, 1 spiralized daikon. Rolling boil. Add daikon. Took 1:45 to come back to rolling boil. 2-minute noodles, nope. 3-minute noodles almost, @ 3:40 overdone. Should have cold water bath waiting. Other pan: 1.25 c water (or shrimp broth/clam broth/etc.) 1 tsp each tom yam paste, lime juice, fish sauce, 2.5 oz pork (v thin, tossed w/ tamari), shreds of watercress, stripe of sriracha. Holy awesome, Radish Spirit!"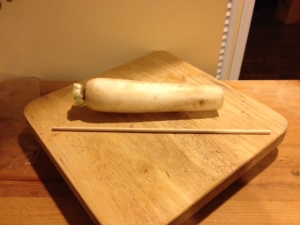 Yesterday, Take 2, I cooked both remaining radishes (tonight's efforts took half an hour, but the next bowl of soup will take 5 minutes). 8 cups water this time, because of the larger volume. Pork and a few shrimp, plus scallions, more watercress, a little sesame oil, and crispy shallots.
You may mock my use of commercial tom yam (or yum) paste, but I like to have it around. A dab makes a nice instant cup-o'-soup mixed with bouillon. Plus, part of the joy of noodle soups for me is that they can be ready in 15 minutes–which they wouldn't be if I were making my own paste. Making my own sounds like fun, but I have yet to find a reliable source for fresh galangal and keffir lime leaves. My local Thai market has frozen keffir lime leaves of extremely variable quality, and I've never seen galangal there at all.
Recipe: Daikon Noodle Soup (with tom yam paste, pork, shrimp)
Instructions are for 1 serving. I usually prep enough pork, scallions, watercress, etc. for a week–keep the vegetables wrapped in paper towels and bagged in the fridge, and measure out servings of pork into silicon muffin cups and freeze them into little hockey pucks to thaw one per day in the fridge. Sometimes I use the microwave to thaw but I don't like it as well.
Batterie de Cuisine (equipment you'll need)
3 or 4-quart saucepan (for blanching daikon)
2-quart saucepan (for the soup)
Small bowl
Measuring cup
Spiral vegetable cutter. If you don't have one of these, you don't want to make this. You can make daikon noodles with a regular vegetable peeler or a julienne peeler, but that sounds like an unbelieveable pain. You could julienne some daikon with a knife, I guess; I love to julienne things (see Duck with Rhubarb-Jicama Slaw), but this recipe is pretty much about the machine and its "Wheeee!" factor. Plus, if you use anything but a spiral cutter, the boiling times below might be off. On your own head be it.
Knife
Cutting board
Colander
Tongs
Bowl, at least 6 cups, 2/3 full of cold water
Bowl for serving, at least 3 cups (and a spoon and some chopsticks or a fork)
Ingredients
1 daikon radish (7-9 inches long), trimmed, scrubbed, and peeled
2.5oz center cut pork loin chop, thinly sliced, rubbed with 1 tsp soy sauce
2 oz frozen raw peeled shrimp (51-60 per lb)
1.25 cups water (or chicken, shrimp, and/or pork broth)
1 tsp commercial tom yam paste
1 tsp lime juice
1 tsp fish sauce
1/4 c finely sliced scallion (you can do this while the water is boiling in step 1 below)
1/4 c watercress, torn or cut into small pieces (no need for precision; you can do this while the water is boiling in step 1 below)
1/2 tsp dark toasted sesame oil
2 tsp fried shallot (store-bought–I get them at my Thai market)
Slice of lime (optional)
Squeeze of sriracha (optional)
Method
Set the larger saucepan full of water to boil, with 1 tsp of salt in it, covered.
Set shrimp in small bowl of cold water to thaw.
Spiralize your daikon. (I recommend saying "Wheee!" as you do so, but it's optional, I guess.) One large radish makes a lot of noodles–that's a 2-cup Pyrex measuring cup in the photo for scale.
Cut the spiralized shreds once or twice with a knife or scissors. Otherwise they are unmanageably long.
Set the smaller saucepan to boil the 1.25 cups water, tom yam paste, lime juice, and fish sauce.
When the smaller pan comes to the boil, put in your finely sliced pork.
Cut the (probably thawed) shrimp into 3 pieces each and add to the pork. Turn the heat under that pan as low as it will go, and add the scallions and watercress.
By now, your larger pot of water should be boiling. Throw the daikon in all at once. Watch the pot until it comes back to the boil (mine took 1:45 for one radish, or three minutes for two); cook the daikon for 1:30 more (for one radish; only 30 seconds more for two radishes), then drain in colander and put immediately into the bowl of cold water. Drain again. It shrinks somewhat once cooked–it's now a scant 1 3/4 cup.
Put noodles in serving bowl. Pour soup over. Top with drizzle of sesame oil, some fried shallot, and a slice of lime.
Next up for my spiralizing enjoyment: Celeriac. There will be oxtails. I'm excited. That's Sunday's plan.