Posted by Johanna
As Simone mentioned, I recently ordered stamps through USPS' Postal Store. Yes, I was lazy. I didn't want to waste a whole lunch hour standing in line just to buy the stamps for my wedding invites that I have yet to send. And, since I do almost all of my other shopping online, I figured I should branch out and do my postage stamp shopping online, too.
Never again–or at least not until USPS changes their shameful, wasteful ways.
I purchased 21 booklets of stamps (14 booklets of 26¢ stamps and 7 booklets of 41¢ stamps) and each individual booklet came wrapped in cellophane with a cardboard insert three times the size of the stamp booklet. Note: on neither the cellophane nor the cardboard are there recycling instructions. Additionally, the excessive packaging–which I originally thought was for the benefit of stamp collectors–actually is printed with the notice, "PKG NOT SUITABLE FOR PHILATELIC ARCHIVING." Seriously?!?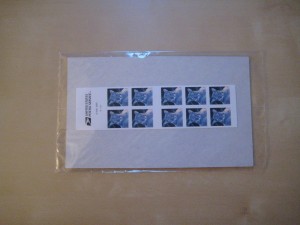 To further demonstrate the wastefulness, I actually used a kitchen food scale to measure the weight of the actual products (the stamps) versus the weight of the waste (cellophane and cardboard). The 21 booklets of stamps weighed 1.5 ounces while the waste weighted 12 ounces! The waste weighed EIGHT times as much as the product! And, as you can see, the volume of the waste was also many times more than the volume of the product.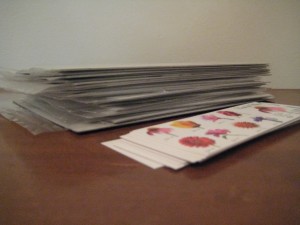 Boo, USPS. Boooooooo.